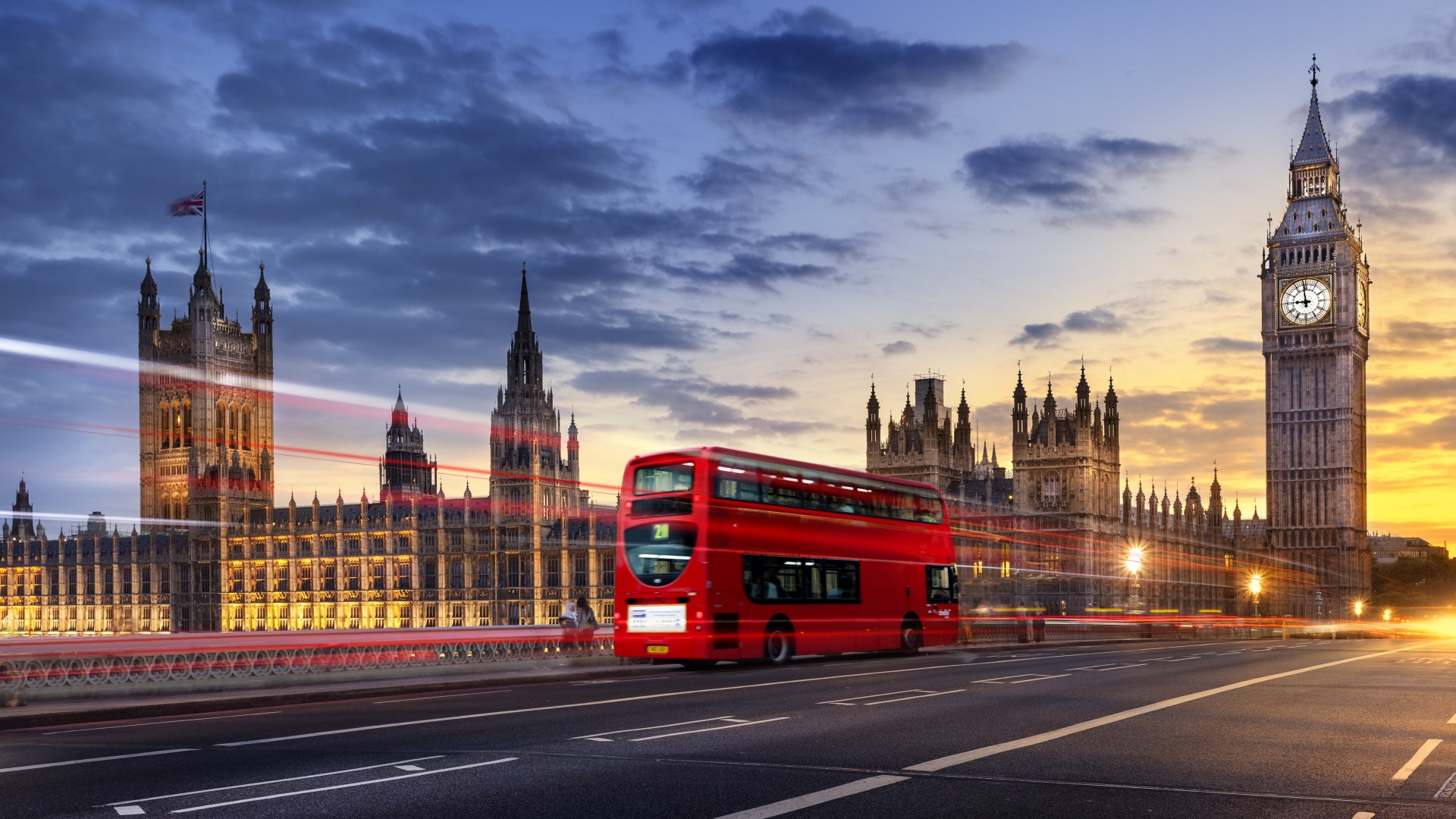 UK Winter Study Tour 2017
1 - 14 January 2017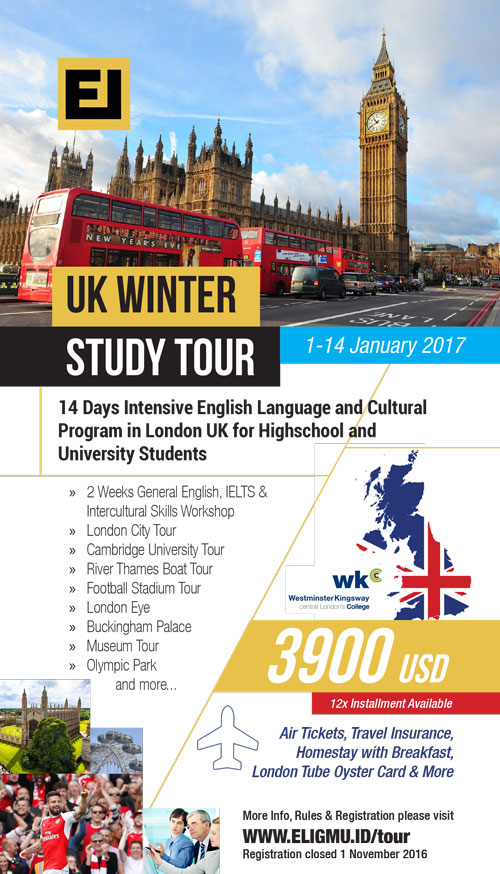 Package Price
---
All in Package
We accept payment by Cash and Bank Transfer. To pay with credit card & debit, please use our Tokopedia store payment. Also available in Installment up to 12 months.
Return Air Ticket

Travel Insurance

2 Weeks Study Program

Homestay Accommodation

Breakfast

Oyster Card

Cultural Visit

Shopping
Registration Form
[contact-form-7 id="396" title="Winter Study Tour Form"]
More Information
Package Including
Airline tickets PP, Non-endorsable, non-refundable & non-reroutable
Free baggage according to Airline regulations
Travel Insurance according to UK embassy requirements
Homestay Twin room with Breakfast
2 Weeks General English & IELTS Preparation Class
Intercultural Skills Workshop
Cambridge University Visit with traditional english lunch.
14 days London Tube Card
Westminster Kingsway College ID
Free Internet @ Campus
Learning Center Access
Learning Materials
Goodie Bag
Certificate of Participations
Not Included
Visa & Passport Fee
Lunch & Dinner
Excess baggage fee
Personal Expenses & Tips
Rules & Regulations
Participant must register before 1 november 2016
Open for Highschool & College Students
Age 14 - 24 year old
Must have permition from parents
Posses valid Passport with expiry date 15-09-2017 or later
Obtain Student Visa from British Embassy, participant must apply visa before 7 november 2016
Obtain permition from School
We will provide necessary documents for Visa Aplications & School permit
Participant must obey the local law, we cannot be held responsible of any illegal activities from participant.
Participant must respect & obey Group Leader decision.
Respect other participant, home owner, teacher & group leader.
Participant must follow the schedule, any deviation from the schedule must have permission from Group Leader and Parents.
Participant must respect Homestay host rules and regulations.
Price & Payment
Participant must pay at least 10% down payment 3 days after registration.
After obtaining Visa, participant must proceed with full payment
We accept cash / transfer payment through our bank account
We also accept credit card & debit through our e-commerce page at Tokopedia.com
For 12x installment please use Tokopedia installment method.
Price are subject to change without prior notice
Cancellation
Down Payment are non-refundable
Cancellation fee:

Before 1 November : Free
1 Nov - 31 Nov : 50%
1 Dec - 31 Dec : 100%

No refund for unused service / itinerary items
Refund will be transferred 1 month after cancellations
Security & Communications
The security and wellbeing of the participants are our utmost priority.
Health & Accidence

Participant must prepare for winter environment.
In the events of sickness and accidence we will call local authority for assistance.
Any hospital fee will be covered by Travel Insurance

Location Monitor

In order to monitor participant activity, parents must install Family Locator App available for Android & Apple.
Participant must accept invitation from tour leader to monitor his/her location.
Parents should actively monitor their children.

Communications

Participant must bring 1 additional phone for emergency for the purpose of making calls & sms only, no internet / wifi.
Participant must share the phone number to group leader.
Participant have to make sure one of the phone are live all the time, please bring charge / battery pack at all time.
Participant and Parents must accept invitation to join the tour whatsapp group.
About WKC
Westminster Kingsway College is one of the largest providers of education in central London and boasts teaching centres across the capital, which offer a wide range of courses, including English Language, Vocational programmes and Undergraduate and Postgraduate courses.
Every year Westminster Kingsway College welcomes International students from all over the world. Our cosmopolitan College community includes over 60 nationalities speaking 54 different languages. We welcome students of all nationalities who have either settled in the UK or travelled to London specifically to study with us. You can study alongside students from all over the world and your experience with us will be greatly enriched by this diversity.
Westminster Kingsway College is accredited by the British Council for the teaching of English and is a member of English UK. Westminster Kingsway College's teaching of English has also been recognised as a Centre of Excellence by EL Gazette, the newspaper for English language and international education, based on the recent British Council inspection.
Schedule
Day 1, Sunday
Meet at Soekarno Hatta Airport, board airplane to London Heathrow.
Day 2, Monday
Arrival - Met by WKC representative at the airport and Travel by private hired car to the Homestay accommodation.
Day 3, Tuesday
09:30 – 12:45

General English

12: 45 – 14:00

Lunch Break

14:00 – 15:00

General English

15:00 – 20:00

Induction, Walking tour central London

20:00

Go back to Homestay
Day 4, Wednesday
09:30 – 12:45

General English

12: 45 – 14:00

Lunch Break

14:00 – 16:30

IELTS preparation

16:30 – 20:00

Harry Potter Shop, British Library

20:00

Go back to Homestay
Day 5, Thursday
09:30 – 12:45

General English

12: 45 – 14:00

Lunch Break

14:00 – 16:00

Buckingham palace

16:00 – 17:00

London Eye

17:00 – 20:00

Southbank Shopping

20:00

Go back to Homestay
Day 6, Friday
09:30 – 12:45

General English

12: 45 – 14:00

Lunch Break

14:00 – 16:00

Natural History Museum

16:00 – 20:00

Knightsbridge & Harrods

20:00

Go back to Homestay
Day 7, Saturday
09:30 – 12:45

Go to Cambridge University

12: 45 – 14:00

Traditional English Lunch (free)

14:00 – 16:00

Cambridge Museum Visit

16:00 – 17:00

Go back go London

17:00 – 20:00

Shopping : Boxpark, Brickfields & spitalfields
Day 8, Sunday
11:00 – 14:00

River Thames Cruise

14:00 – 15:00

Lunch

15:00 – 20:00

Oxford Street, Carnaby Street, Bond Street & Regent Street

20:00

Go back to Homestay
Day 9, Monday
09:30 – 12:45

General English

12: 45 – 14:00

Lunch Break

14:00 – 16:00

British Museum

16:00 – 20:00

Covent Garden & Chinatown

20:00

Go back to Homestay
Day 10, Tuesday
09:30 – 12:45

General English

12: 45 – 14:00

Lunch Break

14:00 – 16:30

IELTS preparation

16:30 – 20:00

Westfield London Shopping Center

20:00

Go back to Homestay
Day 11, Wednesday
09:30 – 12:45

General English

12: 45 – 14:00

Lunch Break

14:00 – 17:00

Arsenal Stadium tour

17:00 – 20:00

Camden Town

20:00

Go back to Homestay
Day 12, Thursday
09:30 – 12:45

General English

12: 45 – 14:00

Lunch Break

14:00 – 16:00

Intercultural Skills

16:00 – 20:00

Notting Hill & Portobello Street market

20:00

Go back to Homestay
Day 13, Friday
09:30 – 12:45

General English

12: 45 – 14:00

Lunch Break

14:00 – 15:30

Olympic park

15:30 – 20:00

Westfield Stratford City shopping centre

20:00

Go back to Homestay
Day 14, Saturday
Return to Indonesia